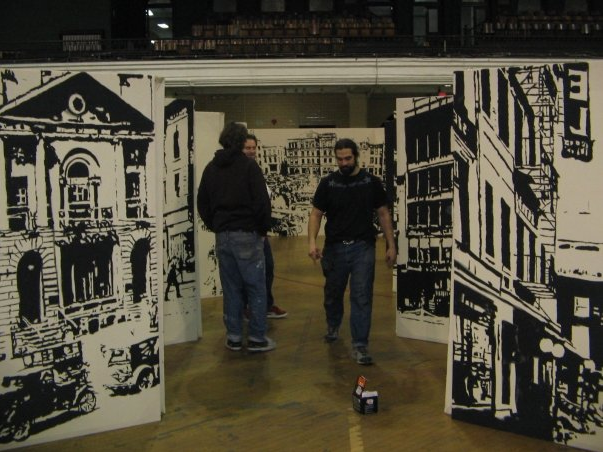 1/4 size replica of original layout of 1913 armory show
this installation was created as a free standing structure comprised of 174 separate 7ft tall canvases, fastened together, and filed into three different galleries.
Portrait-Military-Ghost City
The layout of the walls is a replication of the layout of the famous 1913 armory show that brought Modern Art to America.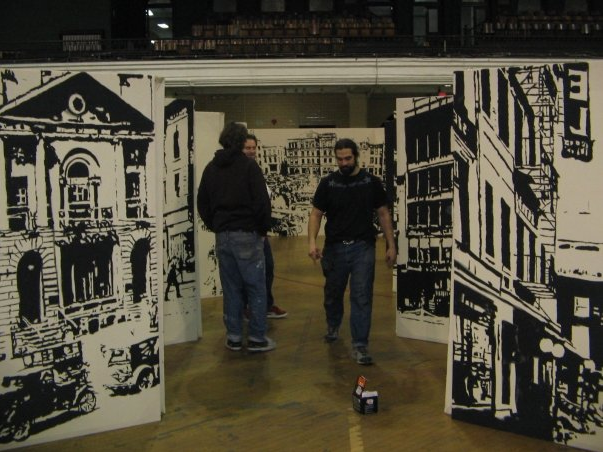 Permanent installation in 69th Regiment Armory on 25th and Lexington New York, NY
Dynamic Crossing series 1
Guardian Angel series
A series of works taking people i know and bestowing them with Wings of Guns.

contact for commissions
150ft long collaborative mural
Contompasis * ENZ collaborative mural
Astoria NY * Private lot
tower interior installation by Peter Edwards
tower interior installation by Peter Edwards
eternal sadness
sculptural installation 2009-2011
various locations
Pillars


Series 1- 100xPillars

This is a multi series, site based exhibition and is an ongoing series of works dealing with color, fusion, movement, and light.
Please contact for exhibition details.

project currently seeking investment and/or representation.
Zinn Arthur series
The prime benefactor in the estate of hollywood photographer Zinn Arthur had given me permission to reproduce, in painting, a few unpublished photos of his works representing stars such as Sophia Loren, Henry Fonda, Marilyn Monroe, and so on...

The entirety of this collection is owned by Douglass Townsend and is on display at Townsend Salon